Senior Animal Wellness Program

---
In September of 2015, C.A.R.E. launched it's Senior Animal Wellness Program with a $3k grant from the Arizona Community Foundation to help senior dogs in shelters get adopted. The Senior Animal Wellness Program is intended for senior dogs and cats over the age of seven. These pets are at most risk for euthanasia due to age, age-related illnesses and/or lack of owner information.

"SENIOR CLASS OF 2015-2016"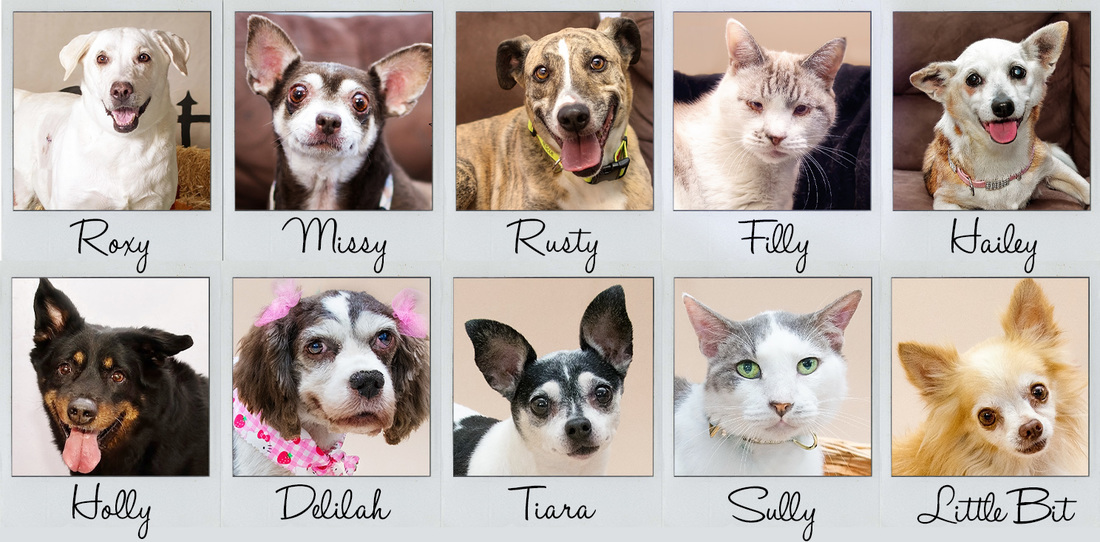 ---
These are their stories...

---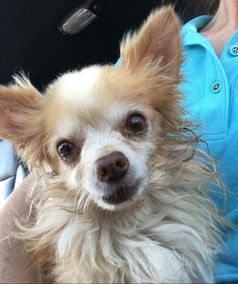 Little Bit had the odds stacked against him already being a senior dog. When people were told about how rotten Little Bit's teeth were, all potential adopters could see were future medical bills down the road. Because of this roadblock to adoption, C.A.R.E. paid for a full mouth extraction after the initial bloodwork and senior wellness exam was complete. His overall health and wellness improved and this cute little guy was scooped up by an adopter very quickly.
---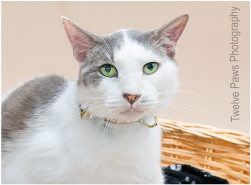 Sully's age was definitely a hindrance to him being adopted. At only 10 years old this gorgeous feline was no where near his retirement years, but when you are competing with cute little kittens we knew we needed to make him more adoptable. Sully went through the Senior Animal Wellness Program and was given a thorough exam including FeLV and FIV testing. These tests are something that most shelters cannot provide for most cats in their care. Once adopters could see that he was a healthy boy that just needed a good home, Sully was scooped up quickly and was adopted.
---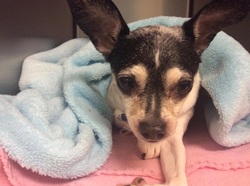 Tiara came to the shelter as a stray. She was about 8 years old and such a sweet girl. Tiara had such long toenails that 3 of them had literally grown into her pads. Her teeth were also horribly neglected but because of her very sweet demeanor, we knew she would be the perfect candidate for our program! Tiara was given an overall health check at VCA in Apache Junction that included urinalysis, bloodwork, thyroid level check, heartworm test, blood pressure check and fecal test. In addition, she received 5 x-rays (chest and abdomen) to check for any abnormalities. The results were basically unremarkable, which means that Tiara was a healthy girl! And those teeth? Tiara had a full dental cleaning done and 8 teeth were extracted. Tiara went up for adoption shortly after and was adopted!
---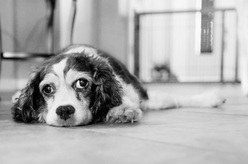 Delilah was a 9 year old Cocker Spaniel that was found as a stray. She was erroneously listed as being 15 years old at the shelter. Her body condition was that of a much older dog, so we could see how the shelter would think she was 15. As it turned out, Delilah had all the underlying symptoms of
Cushing's Disease
. She was placed into hospice foster and sadly passed away four months later. Unfortunately, it was not the Cushings that caused her to decline, but a very aggressive cancer. She was loved by her foster family until the very end.
---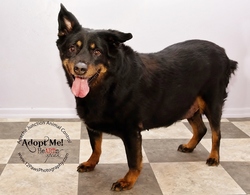 Holly was an 8 year old spayed female Rottie mix. Since she was a little on the heavy side we decided to make her our 6th Senior Wellness Pet. Overweight dogs are at risk for joint, bone and ligament damage as well as heart disease, diabetes and hypertension. We also wanted to make sure she didn't have any thyroid problems that could be causing the weight gain. Turns out that Holly just needed to lose some weight and find an adopter that would be committed to getting her at a healthy weight.
---
Finn was tested for FeLV, FIV and Heartworm among other diagnostic testing that included xrays for overall wellness. All tests showed he was a healthy boy and highly adoptable. He also received a teeth cleaning. It seemed the only problem with Finn was that he had Entropion, (eyelashes through grow inward causing irritation and infection on the eye.) After surgical correction, we could finally see the stunning blue eyes that he had been hiding! Finn was adopted and is now being spoiled with belly rubs and warm windowsills.
---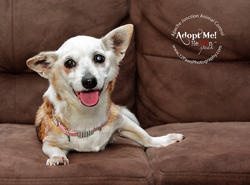 Hailey became our fourth recipient under the Senior Pet Wellness Program. She was a wonderfully spunky little girl but at 12 years old, we knew she was going to need some help getting adopted. Her teeth were rotted with infection and she had several mammary tumors. That was just what we could see from the outside. Her radiograph showed that her liver was on the small side and bloodwork showed that her liver enzymes were mildly elevated. Our vet suspected that this was due to her blood being contaminated from the bacteria in her mouth. Despite her age, her skeletal structure looked good, kidneys looked good and she was heartworm negative. She emerged from surgery like a champ and it didn't take long for her to get adopted.
---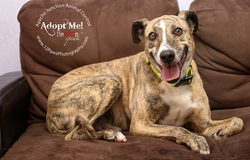 Rusty was the third recipient of our Senior Pet Wellness Program. At only 7 years old, his teeth were horribly neglected. We knew that he was going to need some help to get adopted. Our vet said that the condition of his teeth could have been due to a bought of Parvo or Distemper when he was younger or medications such as Doxycycline that have a tendency to wear down the enamel if given as a small puppy. After a thorough teeth cleaning and several extractions, Rusty was adopted.


---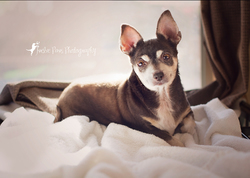 Missy came to the shelter as a stray. After a week of being unclaimed we decided that she would be the perfect second candidate for our Senior Wellness Project! Missy was around 8 years old and a bit overweight at 14 lbs as well as suffering from some hair loss. Her x-rays were mostly unremarkable only revealing some minor arthritis in her right knee. Her blood work came back within normal and her hair loss was due to minor allergies. After a few weeks in medical foster, Missy was adopted by a family that already had several rescue dogs so Missy fit right in!


---
One of the first recipients under the Senior Animal Wellness Program was beautiful 8-year-old Roxy. This gentle and loving white Labrador Retriever came to the Paws & Claws Care Center as a stray. It was obvious she needed medical care for a very bad skin infection that ravaged a great deal of her body. She was treated over a course of a few weeks and received a clean bill of health. Roxy was adopted by a wonderful person that fell in love with her instantly.
---
---