Success Stories!

---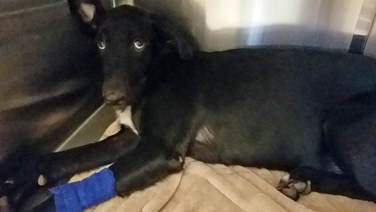 Aspen is the 7th Parvo dog treated in 2017! She was brought into the shelter to be euthanized, but given that she was still alert and active and only 8 months old, we thought she deserved a chance. She was adopted after her treatment and two weeks of quarantine.
---
---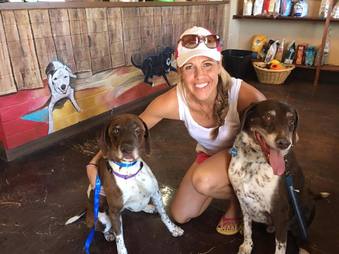 Brianna, a 10-year-old female German Shorthaired Pointer, had been found abandoned in the Arizona desert. She had been on her own for at least a week when she was spotted by a Good Samaritan. It was with his help, that Animal Control was able to catch her and brought her into the shelter where she sat unclaimed. She weighed a mere 34 lbs.
The shelter called us and we brought her immediately to the local veterinary hospital where she was put on fluids and antibiotics. We ran a gamut of tests including bloodwork, fecal, Heartworm, Tick and Valley Fever tests. Remarkably, her bloodwork came back within normal limits. In an area of the Southwest that is very well known for Valley Fever, we were very relieved. The vet did notice a sunken eye and diagnosed her with Horner's Syndrome, a common neurological disorder of the eye and facial muscles. Hoping that the eye issue would resolve itself, all she needed now was to gain weight slowly and carefully under hospital supervision.
After three weeks at the vet, she gained 10 pounds, became the unofficial office dog and was loved by everyone at the vet hospital. The vet staff even took it upon themselves to give her a little basic training and Brianna picked up commands very quickly. They, like us, wanted to give her the best chance at adoption.
We received several applications for Brianna, but one stood out from a woman who already owned a GSP and was very educated on the breed. She drove 50 miles and nearly an hour to meet her and immediately fell in love. These are the moments that we live for and I am very happy that C.A.R.E. Medical Fund was able to give her the second chance she deserved. She would have not been able to receive the care she needed at the shelter with space being at a premium and with their very limited resources. Working together, we made a difference in this one senior's life.
---
---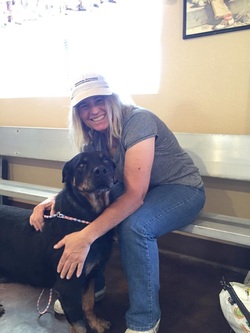 This is the kind of thing you hope never happens when a pet is adopted out. Angelica was adopted back in June. She escaped her owner's yard and something got a hold of her and tore her up pretty badly. Unfortunately, the adopters did not have the wherewithal to take her to the vet, so she was surrendered and is back at the shelter. She has a lacerated ear that was so damaged that half of it had to be removed. Her foreleg has septic arthritis and has to be treated with very strong antibiotics. In fact, she has to have antibiotics 3x a day, anti-inflammatory 2x a day, pain meds 2x a day, and another antibiotic in the afternoon. Angelica is a big 100lb. Rottweiler so you know whatever got a hold of her did not intend for her to survive. Angelica recovered at the shelter with the help of a very caring volunteer staff. PUPDATE: Angelica was adopted!
---
---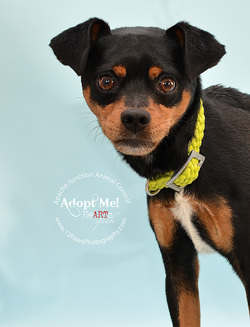 Newman had a golf ball sized mass on his back that was removed. The vet said that he had suffered "severe trauma" from bite wounds to a great deal of his body. This poor little guy sure had been through a lot! So what we thought might be a tumor turned out to be a kidney!!! The "severe trauma" that he had experienced to his body made his organ shift. On one hand, we're grateful that he's cancer free, but on the other what had this poor dog gone through?

Good news! Little Newman was adopted!


---
---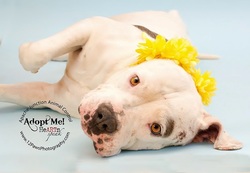 Molly is a 3 year old female American Bulldog. She came to the shelter as a stray and in very bad shape. She has allergies that were not properly treated and got out of control. Her head and legs had open wounds from scratching and her ears were badly infected. This very sweet and special girl is a complete luv bug!!! We can't imagine how someone could neglect such a gentle girl. CARE Medical Fund paid for her to be seen by a vet and she is now feeling a whole lot better. Big thank you to the volunteers who have been bathing her in medicated shampoo and giving her the TLC she needs.
---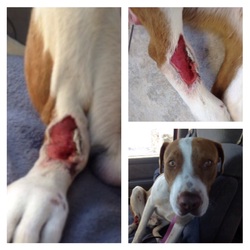 Hobbs was an 18 month old Staffordshire Terrier mix that was found wandering the streets and brought in by Animal Control. He had a lacerated back leg and was hobbling on his back foot (hence the name "Hobbs'). Our vet believes that Hobbs must have been hit by a car since he also had contusions on his hip and side. I just can't imagine how anyone could hit a dog and not stop to help, but apparently this was the case. Hobbs x-rays show no broken bones so his wound was cleaned out, a sugar wrap applied and he'll be on a steady course of antibiotics and pain meds for two weeks. This new type of wrap did wonders and he healed beautifully! Hobbs was adopted out shortly after!
---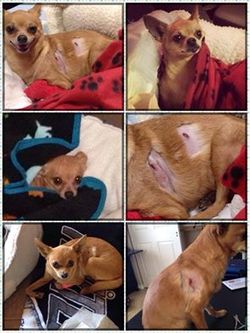 Little Amari, at a tiny 5 lbs., was found barely alive by Animal Control. The deep and very large puncture wounds on her body were indicative of a vicious animal attack. How Amari escaped and survived from whatever got a hold of her is nothing short of a miracle. She was dehydrated and could barely walk, much less stand. The vet pumped her little body with fluids and antibiotics and after a very scary night for all of us, she lifted her little head and smiled. Amari is now on... her way to recovery and will be up for adoption soon. This precious girl gets along very well with other dogs, she's potty trained and loves to be loved. She is about 5 years young. Her caretakers are going to be VERY particular to whom she goes to as they have gotten very attached and will only give her to the family that understands what being a forever family is all about. Thanks to CARE Medical Fund once again for saving yet another precious life.

UPDATE: AMARI ADOPTED!






---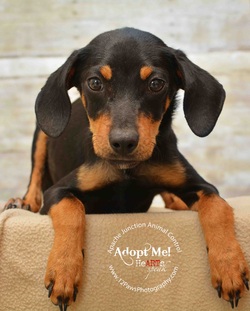 Carl is just a puppy, but even puppies need lots of care. Carl was brought into the shelter with a prolapsed rectum. This can be caused by constipation, parasites, or diarrhea and is common in puppies under 6 months old. Left untreated, a dog will be unable to eliminate stool from the anus. As a result, severe illness will develop, followed within several days, by death. We are obtaining a stool sample to rule out parasites and we'll keep everyone posted.

PUPDATE: 2/5/15 - Carl is doing great and you almost can't tell that anything happened to him at all. He's on a special diet to help his tummy with diarrhea and not exasperate the problem any further. He is ready for adoption!

PUPDATE: 2/10/15 - Carl was ADOPTED!





---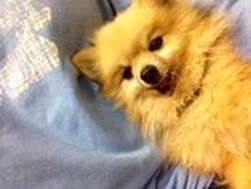 Meet W.C. Fields! This little peanut was found as a stray on the streets of Apache Junction. He was only about 6 or 7 years old, yet had a disintregated lower jaw (most likely from bad teeth), horribly matted fur and a urinary problem. W.C. Fields also only weighed 5 lbs! W.C. adapted to having a disfigured jaw by putting all his food into a big pile and eating it slowly. It's amazing how animals can overcome their disabilities! WC was adopted after winning over his new owner with that adorable smile!
---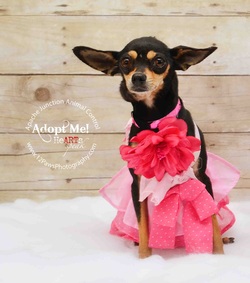 Miami was one of the many dogs that are found on the streets in Arizona. After a few days, she was slated for euthanasia due to a large tumor on her neck. Miami was transferred to the Apache Junction shelter where she was spayed, had the tumor removed and subsequently also underwent a hernia repair. All that in one day! Apache Junction Shelter is fortunate to have a medical fund program that can help dogs like Miami.
---
This poor little Lhaso Apso puppy came into the shelter so severely matted, that she could not walk or see. Her nails were so long that they were literally digging into her pads. Diane Wunderlich from Happy Hounds Mobile Pet Salon spent FOUR HOURS grooming her just to try and free her! What she found were mats so big they created sores all over her. One leg was so bad with infection, it was cutting into her skin. Our vet says her jaw had probably been broken and set at some point. All this, and she is only about 3 years old. She was placed on strong antibiotics and did not have to lose her foot.
---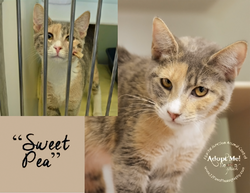 Sweet Pea came in with her sister, Marigold. Sweet Pea had some serious swelling in her cheek that turned out to be an abscess. The vet removed the abscess and put in the drain (the rubber tubes sticking out.) It didn't take long for her to heal and be placed back on the adoption floor. Marigold and Sweet Pea were both eventually adopted!
---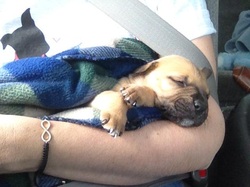 Kenzlee had a bad bone infection in her mouth which caused a great deal of pain and swelling We suspect her mama might have bit her inadvertently. At only three weeks old, she needed immediate medical attention. Thanks to C.A.R.E. and the vet staff at VCA Animal Hospital, she had the infected bone removed and was placed on a schedule of antibiotics.
---
| | |
| --- | --- |
| This is Frankie the Puggle (Pug and Beagle mix). What a happy guy despite the "cherry eye" that plagued both his eyes. Dogs like Frankie usually get adopted, but sometimes what stops an adopter from taking a shelter dog home is a condition like this. We know that Frankie was not damaged goods and the cherry eye could be easily corrected. "Cherry Eye" is when a dog's third eyelid (yes, they have three!) slips out of place. Once it happens to one eye, it usually happens to the other is well. This third eyelid protects the eye and keeps the eye moist. Frankie came through the eye surgery like a trooper and now all he is seeing is a happy future. | |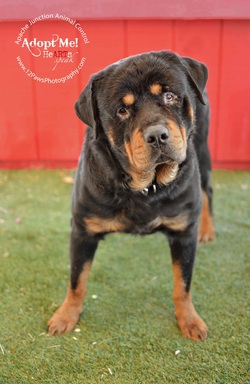 MeatLoaf came to the shelter with a severe eye infection caused by Entropian. A condition in which the eyelashes turn inward causing a great deal of pain. If you think getting one eyelash in your eye is painful, imagine having all your eyelashes stuck directly into your eye! Despite the obvious pain he was in, this gentle giant allowed us to give him the care he needed. After his eye surgery that corrected both eyes, he was rescued and eventually adopted to a family that absolutely adore this big ol' teddy bear. Another happy ending!
---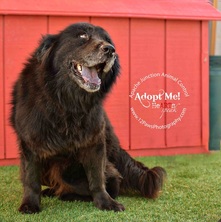 Mei-Lin is a beautiful chow chow that was found as a stray in Apache Junction.
Her gorgeous fur matted and dirty and an ear that had an aural hematoma the size of a golf ball. An obvious case of neglect, we wanted to get her back to her
beautiful self so that she could be adopted. With such a gentle spirit and a
wonderful disposition, she still had a whole lot of years left to give. Only five days after a successful surgery, she was adopted!

---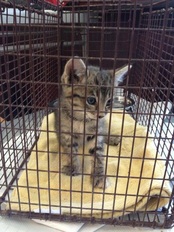 This small kitten came in to the shelter as a stray found by a good
Samaritan at a truck stop. She was not using her back leg at all and the leg was thought to be broken. A vet visit, paid for by C.A.R.E., revealed that the leg was in fact not broken and it could possibly be healed in time with
physical therapy. At the time, the shelter had about 100 cats and
kittens and this little one surely would have been a statistic if not for
the generosity of one shelter volunteer who stepped up and fostered
her and gave her the therapy she needed. The volunteer eventually adopted her as she could not part with this lovely and strong hearted kitten.
---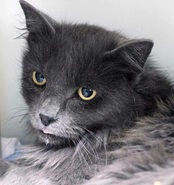 Grey Kitty came in with a suspected broken leg. Normally, this is the type of
injury that the shelter could not afford to treat and the shelter had to consider humane
euthanasia. Due to the CARE fund, he was seen by a vet and it turned out that he
did not have a broken leg, but had a very large and deep puncture wound to his
back leg. He was treated and placed back on the adoption floor. Grey Kitty is
now adopted!
---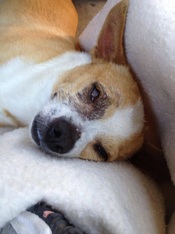 Finn came into the shelter as a stray running around a trailer park. He had
what was presumed to be an injury to his eye and neck due to an animal
attack. He was picked up by Animal Control and taken to the
shelter. He waited for his family to come for him, but they never did. He
was sent to the vet hospital and the eye injury he suffered was unable to
be reversed. He also had a benign mass on the side of his body that
needed to be removed. The fund paid for his eye removal surgery and
mass removal. Finn has now been adopted and living his life
comfortably. His new family reports he loves to play ball and gets around
just fine as if he had never lost an eye at all.
---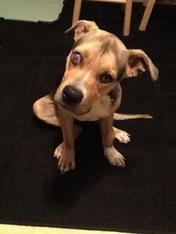 Little Tyra came in to the shelter as a stray in March of 2013. Her limbs were
swollen, her eye was bulging and cloudy and she was very lethargic. She was
diagnosed at the vet with advanced Valley Fever and was given a grim prognosis.
The chances of her survival were 50-50 at best. Our medical fund
paid for her medical costs as we felt she deserved a chance to live a happy and
full life as she was only about a year and a half old. After months of treatment
and a dedicated foster mom, Little Tyra turned the corner. She had surgery
to remove her eye (which had been ravaged by Valley Fever) and fully
recovered. She is now living a wonderful and full life with her new mom
and dad and doggie brothers and sisters who all spoil her rotten.
---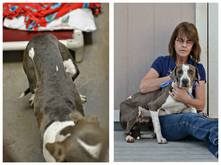 Dogs like Sweetie don't normally get adopted in shelters. She came in emaciated,
very scared and with what appeared to be some sort of spinal injury. Normally,
the shelter would have euthanized such a pup in this condition. Through the
fund, she was x-rayed and tested for Valley Fever. What at first appeared to be
an old injury, was actually a birth defect. Her back patellas (kneecaps) were
located just to the outside of her knee joints causing her to walk strangely,
but not cause her any pain or problems getting around. There was no sign of
Valley Fever and her other blood work was normal. The vet recommended joint
supplements and to keep her at a good weight, but saw no reason for this lovely
girl to be euthanized. Sweetie was placed back on the adoption floor and eventually found her forever home!
---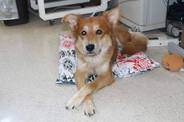 Redd Foxx was suspected of having Valley Fever. A full blood panel, paid for by
the CARE Medical Fund, revealed a positive diagnosis. He was treated with meds all
paid for by CARE while waiting for his forever home at the shelter. Redd Foxx
was eventually adopted! His new family continue to give him his monthly medication and visits the shelter regularly to let them know how he's doing.
---
Jack came in with a severe eye injury after spending months roaming around the
shelter grounds. This poor cat must have been in quite a lot of pain. The CARE Medical Fund paid to have his eye removed and he was put up for adoption. Jack spent a few weeks recovering and was eventually adopted!
---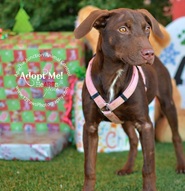 Penelope was a chocolate lab puppy that had some severe skin issues. We wanted to give her the best chance at adoption by identifying what was causing her hair loss. A skin scrape revealed Demodectic mange and she was given the proper treatment including Ivomectin injections. Because we could tell her potential adopters that it was an easily treatable condition and all she needed was a little extra TLC, she was adopted shortly after.
---