Companion Animal Rehabilitation Emergency Medical Fund (C.A.R.E. Medical Fund) was founded in 2013 and brings otherwise unadoptable companion animals to an adoptable condition by providing emergency medical funding and assistance to local shelter pets.

---
Animals In Need


Success Stories


DONATE

Give to help animals in need. You can make a one time donation or help with monthly giving! Click HERE to see how.
---
Medical Spotlight - Annie!
We thought for sure that someone was looking for this senior girl when she was found as a stray. Sadly, after several days no one turned up to claim her. Annie (what we decided to name her,) was diagnosed with
Pyometra
and Gall Bladder stones when she went in for her senior wellness exam. Pyometra is a very serious and dangerous condition in unspayed females and she underwent emergency surgery immediately. At that time, it was discovered that she also had an old
Oronasal Fistula
. She had hardly any teeth when she was found, and unfortunately the vet had to remove all the rest of her teeth as well due to infection. It is so sad and unfortunate when dogs like Annie are neglected to such a degree. Now, I hope she will be able to find a new and loving home that will give her all the love she deserves. Please donate on her behalf. Thank you!​
---
In the News...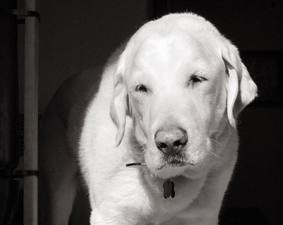 CARE Medical Fund is happy to announce that we were awarded a grant from
The Grey Muzzle Organization
!!! The grant will be applied toward our
Senior Animal Wellness Program
and will help senior dogs over 7 years old to become more adoptable. Grey Muzzle improves the lives of at-risk senior dogs by providing funding and resources to animal shelters, rescue organizations, sanctuaries, and other non-profit groups nationwide. We appreciate the opportunity to help save more senior lives!
---