Companion Animal Rehabilitation Emergency Medical Fund (C.A.R.E. Medical Fund) was founded in 2014 and brings otherwise unadoptable companion animals to an adoptable condition by providing emergency medical funding and assistance to local shelter animals. We work closely with local shelter staff to ensure that proper care is given to each animal that needs it. The goal of C.A.R.E. is to reduce the suffering of animals in local shelters, and reduce the need for euthanasia by facilitating basic veterinary care and treatment. C.A.R.E. Medical Fund is a 501(c)(3) charitable organization that is dedicated to reducing unnecessary euthanasia, end suffering and educate the public on responsible pet ownership and care.

---
Animals In Need

Success Stories

DONATE

Give to help animals in need. You can make a one time donation or help with monthly giving! Click on the button to see how.
---
---
SIGN UP FOR OUR NEWSLETTER!
---
Medical Spotlight - Hailey and Filly!

PUPDATE 2/12/2016: Hailey is doing wonderfully this morning! She sprang into Dr. DeCozio's arms and gobbled up all her food. I'm sure she's feeling like a brand new dog! In addition to the mammary tumors, she also had large cysts on her ovaries removed and she was spayed. I can't help but think that it could have all been avoided if she had just gotten spayed as a young dog. Her teeth were cleaned and Dr. DeCozio had to extract several rotten teeth. We are sending out the tumor tissue to be sure th...at it is not cancerous and we should have those results shortly. She is a wonderful, happy little dog that we know will make someone very happy. Now that's she's gotten the care she needs, we feel that her chances for adoption are very high and that's what this program is all about! You can still contribute to Hailey's fund by making a donation on her behalf.

As part of the CARE Senior Wellness Program, Filly has been tested for FeLV, FIV and Heartworm among other diagnostic testing, including xrays, for overall wellness. All tests showed she is a healthy girl and highly adoptable. She will receive a teeth cleaning and she will undergo surgery to treat her distichiasis, (an eyelash that grows from an abnormal spot on the eyelid.) She'll be soon ready to go home and be treated like the princess that she is.

---
---
Latest News
C.A.R.E. Awarded $5,000 from Arizona Cardinal Charities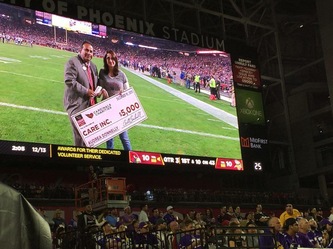 On December 10, 2015, CARE Medical Fund was awarded $5,000 from Arizona Cardinal Charities at the Cardinals vs. Vikings game!!! Audrea Donnelly and Vickie Sullivan were chosen as the Community Quarterback Award winners for their volunteer service and Audrea accepted the check on behalf of CARE! This will go such a long way to help the animals of Apache Junction Animal Control and we are very proud and pleased to accept this honor!


---