Companion Animal Rehabilitation Emergency Medical Fund (C.A.R.E. Medical Fund) was founded in 2013 and brings otherwise unadoptable companion animals to an adoptable condition by providing emergency medical funding and assistance to local shelter pets.

---
Animals In Need


Success Stories


DONATE

Give to help animals in need. You can make a one time donation or help with monthly giving! Click HERE to see how.
---
Medical Spotlight - Brianna!
Brianna, a 10-year-old female German Shorthaired Pointer, had been found abandoned in the Arizona desert. She had been on her own for at least a week when she was spotted by a Good Samaritan. It was with his help, that Animal Control was able to catch her and brought her into the shelter where she sat unclaimed. She weighed a mere 34 lbs.
The shelter called us and we brought her immediately to the local veterinary hospital where she was put on fluids and antibiotics. We ran a gamut of tests including bloodwork, fecal, Heartworm, Tick and Valley Fever tests. Remarkably, her bloodwork came back within normal limits. In an area of the Southwest that is very well known for Valley Fever, we were very relieved. The vet did notice a sunken eye and diagnosed her with Horner's Syndrome, a common neurological disorder of the eye and facial muscles. Hoping that the eye issue would resolve itself, all she needed now was to gain weight slowly and carefully under hospital supervision.
After three weeks at the vet, she gained 10 pounds, became the unofficial office dog and was loved by everyone at the vet hospital. The vet staff even took it upon themselves to give her a little basic training and Brianna picked up commands very quickly. They, like us, wanted to give her the best chance at adoption.
We received several applications for Brianna, but one stood out from a woman who already owned a GSP and was very educated on the breed. She drove 50 miles and nearly an hour to meet her and immediately fell in love. These are the moments that we live for and I am very happy that C.A.R.E. Medical Fund was able to give her the second chance she deserved. She would have not been able to receive the care she needed at the shelter with space being at a premium and with their very limited resources. Working together, we made a difference in this one senior's life.
​
---
In the News...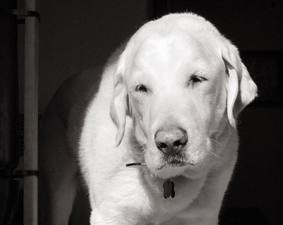 CARE Medical Fund is happy to announce that we were awarded a grant from
The Grey Muzzle Organization
!!! The grant will be applied toward our Senior Animal Wellness Program and will help senior dogs over 7 years old to become more adoptable. We appreciate the opportunity to help save more senior lives!
---