Companion Animal Rehabilitation Emergency Medical Fund (C.A.R.E. Medical Fund) was founded in 2013 and brings otherwise unadoptable companion animals to an adoptable condition by providing emergency medical funding and assistance to local shelter animals. We work closely with local shelter staff to ensure that proper care is given to each animal that needs it. The goal of C.A.R.E. is to reduce the suffering of animals in local shelters, and reduce the need for euthanasia by facilitating basic veterinary care and treatment. C.A.R.E. Medical Fund is a 501(c)(3) charitable organization that is dedicated to reducing unnecessary euthanasia, end suffering and educate the public on responsible pet ownership and care.

---
---
---
SIGN UP FOR OUR NEWSLETTER!

---
Medical Spotlight - Baby!

At only 5 months old, Baby was playing when she ran into the street and got hit by a car. She suffered a broken leg and the owner could not afford to treat her. Animal Control was called in to confiscate the dog if the owner did not provide the dog with vet care. After five days, the owner turned her over to Animal Control. Baby's leg was immediately x-rayed and was found to be broken in one place. The leg was splinted and she was given pain meds. This week, she will undergo surgery that will help repair the fracture. It will be a while before she can be run and play like a puppy again, but thanks to some very caring folks that came together for this little pup, she will be getting the best care and ready for adoption soon.
---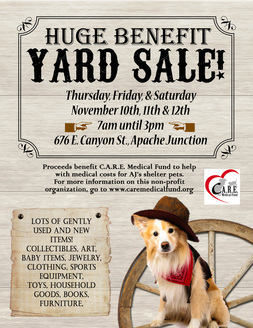 Our yard sale is coming and we need your help and support! Proceeds from this fundraiser goes toward the ever increasing medical costs for homeless shelter pets.
We are accepting donations up until the day of the sale. You can drop your donations off at Paws and Claws Care Center, 725 E. Baseline Rd., Apache Junction 85119 during business hours (10am to 3pm, Tuesdays through Saturdays) or message us using the contact form if you can't make those hours. Here's a few ideas of things you can donate:

*Clothes, Shoes, Coats, Hats, Belts, Purses/Bags
*CDs, Albums, Books, Flower Arrangements/Plants
*Frames, Pictures, Wicker, Vases, Dishes...
*Jewelry, Toiletries, Stuffed Animals, Beach Stuff
*Toys, Games, Sporting Equipment, Bikes, Pet Stuff
*Electronics, Kitchen Items, Appliances, Tools
*Furniture, Bedding, Towels, Mattress, Curtains, Rugs
*Christmas/Holiday Merchandise

Thank you for your support and don't forget to visit us at the sale November 10th, 11th and 12th!

(CARE Medical Fund is a 501(c)3 non-profit organization. Monetary donations over $250 will receive a receipt. Please consult your tax advisor for claiming donations.)
---