Companion Animal Rehabilitation Emergency Medical Fund (C.A.R.E. Medical Fund) was founded in 2014 and brings otherwise unadoptable companion animals to an adoptable condition by providing emergency medical funding and assistance to local shelter animals. We work closely with local shelter staff to ensure that proper care is given to each animal that needs it. The goal of C.A.R.E. is to reduce the suffering of animals in local shelters, and reduce the need for euthanasia by facilitating basic veterinary care and treatment. C.A.R.E. Medical Fund is a 501(c)(3) charitable organization that is dedicated to reducing unnecessary euthanasia, end suffering and educate the public on responsible pet ownership and care.

---
Animals In Need

Success Stories

DONATE

Give to help animals in need. You can make a one time donation or help with monthly giving! Click on the button to see how.
---
---
SIGN UP FOR OUR NEWSLETTER!
---
Medical Spotlight - Daisy and Delilah!

It's sad and tragic when dogs go unclaimed in the shelter. Although we may never know how Daisy came to be lost, she was obviously in need of serious medical care. She was found lethargic and her back legs were not functioning properly. She walks like a senior dog with arthritis, but Daisy is less than a year old. She was sent to VCA Hospital for an initial exam. Blood work revealed a higher than normal Phosphorus level. This may be indicative of some type of kidney issues. Phosphate is also occasionally elevated when a bone tumor or similar problem is present, but x-rays were normal. That's why our next step is to have some additional tests done to see if there are any clues to her current condition.

Thankfully, she is drinking and eating well and although she spends most of her time napping, she is stable at the moment. It's hard to see pets be so miserable and not be able to help them. If only she could tell us what happened to her. Please keep her in your thoughts as we try and help Daisy through this. You can donate to to her medical fund below.

Thank you!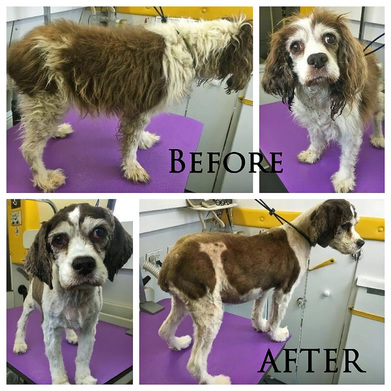 We've decided to make Delilah CARE Medical Fund's 7th Senior Wellness Project Pet! Delilah was found as a stray and from the looks of things, she must have been out on her own for a while. She was covered in burrs and her nails were very long. She has signs of an ear infection/possible hematoma and her teeth are very bad. After her groom (by the wonderful Diane Wunderlich of Happy Hound Mobile Pet Salon,) she felt so good that she came running in the shelter building with her little nubby tail wagging all the way! Delilah is listed as 15 years old, but she may be a bit younger. Her appointment at VCA is next week, so we'll keep everyone updated with her progress!


---
---